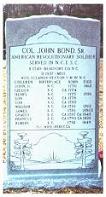 MAP LOCATION for, Erth Barton.
You may wish to visit some more, Sammy Bond, Web Sites at the
Link below.
All Rights Reserved. The purpose of these Web Pages is a Non Commercial Photo Album that also includes Information for other members of the Bond Family and Visitors to veiw. Some of the Pictures and some Information Included on the Web Pages is already Copyrighted in Books. A Reference for some of the Pictures and Information included on these Web Pages is Unknown. No Permission is granted to use the Pictures, Information, and Family Research included on these Web Pages in Books that are sold . Any one that wishes to include these Pictures, and the Family Research and Information in books is hereby instructed to contact the Owners of the Pictures, Information, and Family Research for Their Permission to use the Pictures and Information for Commercial Use. Any use of any of these Web Pages is at your own Risk and Liabily.
Any, of our Web Pages, May, and Do, Contain Mistakes, Incorrect Information, Mispelled Names, and Words, or, Not Include all Family Members, or Decendants, and the Information included on the Web Pages is not to be used as a Reference.
ACKNOWLEGEMENTS: for Pictures, Information, or Both Pictures and Information, EARL K BOND, COLUMBUS BOND, RYAN LOTT, DOWIE ECROYD, LINDA BOND, Mrs. HARDEE BOND, HOPE BATTILANA, LARRY SMITH, Dr.LOU ANDERSON, KENNY HATTEN, RUTH ANN BOND, JUDY MILES, THANA BOND WALKER, LARRY ONEAL, HANK BOND, NETTIE HERRINGTON LEDWITH, CLAUDIA KERR, PETER BOND, JOE and SHIRLEY WHEAT, ODEL BOND LOTT, GAYE McGEE, VIVIAN DAVIS BORNEMANN, STEVE JOHNSON, ALONZO BOND, FRANCIS PHILIPS, SHIRLEY LEBLANC, Mrs CHARLES PATRICK, PATRICK CURTIN, BEA CROUCH, ROBERT HARPER, BONNIE BOND, HERMON BOND, JUDY BETHEA, ERETTA CLARK, and to Any, PERSON, PUBLISHER, WEB SITE, or, REFERENCE, we may have missed or be unaware of in our Acknowledgements.
I am gratefull for all of the, John Bond, family researchers from the past, present, and the many current, John Bond, family members that have sent me pictures and information for these Web Pages.
Thank you Sincerely,
Sammy Bond