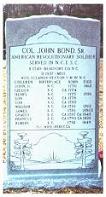 He was, Captian John Bond in 1776 and won the Battle at Rayburn Creek NC during the Revolutionary War against the British.
He was, Col John Bond Sr, in the War of 1812 and in the Mississippi Territorial Milita.
Col John Bond Sr. was the son of
Col JOHN BOND Sr, born in 1749 in NC and was adopted and raised by his mothers brother John Wallis. He married Eleanor Peyton about 1769 in NC. He died 1837 while visiting family in Pike County, MS. and was brought back to Wiggins, MS and buried in
Bond Harvison Cemetery, Stone County MS.
located near Wiggins MS .Eleanor Peyton, was born 1750 in Beaufort County NC, and died in Pike County MS . He married 2nd a lady named Rebecca _____?
The Children of Col John Bond Sr. 1749 was,
1. Lt Col JOHN BOND Jr, born 1770 in NC.
3. GIDION BOND, born About, 1774. in NC.
4. HENRY BOND, born Nov 4 1775. in NC.
5. JAMES BOND, born 1785 in NC.
6. GRACEY BOND, born 1787 in SC.
7. FRANCES BOND, born 1790 in SC.
8. RICHARD BOND, born 1790.
9. ROBERT BOND.born 12 Feb 1792 in SC.



We the undersigned recommend, John Mathews (Jones County) Willis Simmons and, John Bond, as good honest upright citizens and they wish to obtain a Passport from this County and state to the Mississippi Territory as they are about to remove there to. October the 6th, 1809 to Sion Thrower, and Harrison Cabiness (Capt). Denton Daniel, Frederick Daniel, Drury Reese J.P., H. Carson I.I.Q, Nathan Peeples, William Ratcliff, Capt., Cuthberth Reese, Milton Amos, John Hogg, Hardy Bullock, Elijah Bailey, Wilkins Jackson, J.P., George Cabiness, Stephen Kirk, Amel Huggins, Ephraim Cox, Moses Cox, Asa Cox. Recommended in favor of John Mathews, Willis Simmons and John Bond. Order taken and Granted, Oct 11, 1809.

In 1810, Col John Bond Sr, and his sons Enlisted with Gen. Andrew Jackson along with Col. George Nixon for the War of 1812 at Fort Hawkins near Macon Georgia.
The British hired the Creek Indians to Attact the Settlers in Georgia and Alabama. The War was over in 1812. The Creek Indians went to Flordia and the British left their Forts.
After the, War of 1812, was won, the Family enlisted in the Mississippi Territorial Milita under Gov. David Holmes at Fort Stoddart in Alabama.
In the Mississippi Territorial Milita one of 1st dutys for, Col John Bond Sr, and his Family was to extend the old Federal road to Louisana for the Battle of New Orleans.
The old Federal road was built thru Virginia North Carolina Georgia Alabama Mississippi to Louisana